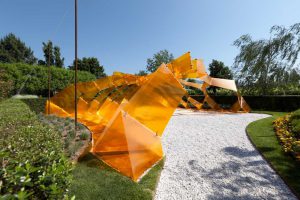 Architects: Gonçalo Castro Henriques, X-REF Architectural Research & Development
Location: Ponte de Lima, Portugal
Client: Municipality of Ponte de Lima
Partners: X-REF, BÖ01 project management, Dagol Lda
Collaboration: Paulo Teodósio, Pedro Torres e Pedro Negrão (MergeLab), Helder Carvalho
Project Area: 280 sqm
Project Completion: 2012
Honey Scape is a dreamy temporary pavilion made of interlocking hexagonal sheets (or combs) of alveolar polycarbonate that create a dazzling display of light and shadow. "The combs act in part as the voussoirs of a parabolic arc supporting each other," the designers explained. This allows them to "adopt a configuration of a double curvature surface… and adjust its size to their relative position in the structure."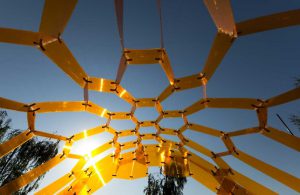 The components were digitally fabricated and constructed on site using metal connectors and a cable system. The resulting low-tech, 280 square meter pavilion commissioned by the municipality of Ponte de Lima and completed earlier this year heralds a new type of bio-tech art. Its main purpose, in addition to introducing a new aesthetic into the public realm, is to establish ultimate synergy between people and the built and natural environment.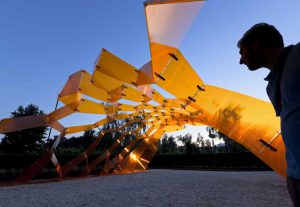 Golden Honey Scape Pavilion Mimics a Giant Honeycomb in Portugal Inhabitat – Sustainable Design Innovation, Eco Architecture, Green Building A low-tech construction system was developed to build this complex structure. The system was complemented with metal connectors and a cable system on site. As it happens in the hives, this system required cooperative work to be assembled and became a reality. Networking and self-organization, which have inspired artificial intelligence, also inspired this solution. It offers bio-tech-art for a symbiosis between human and nature.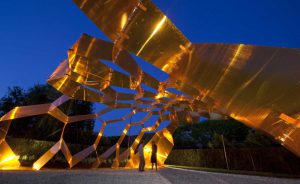 The installation avoids mimicking or confronting the landscape, rather seeking a man, nature and technology synergy. The structure recreates the honeycomb rules adapting to a lightweight double-curved surface in alveolar polycarbonate. The hexagonal geometry of the honeycomb is set according to three references – the parabolic arch, the double curved surfaces and the process of material adaptation. So the combs act in part as the voussoirs of a parabolic arc supporting each other, adopting a configuration of a double curvature surface (hyperbolic paraboloid), and adjusting its size to their relative position in the structure. The combs are larger at the base, decreasing in size and height towards the top of the structure. The generation and manufacture of the components relied on the use of scripting and digital fabrication.
Built after winning an international landscape competition at Ponte Lima, Portugal, Honey Scape is temporary landscape pavilion by Gonçalo Castro Henriques of X-REF. This installation intends to shelter the visitor, captivating him by a dream-like atmosphere with aromatic plants. This atmosphere is defined by a light and transparent structure, based on a honeycomb, creating a dynamic of light and color throughout the day. More images and architects' description after the break.
© Alexandre Delmar / JF Fotografia