Fabrics with self-cleaning properties can last longer, require less maintenance and even reduce air pollution.
Sunlight can damage many types of fabrics, yet it can also have a beneficial effect on textiles that are enhanced with self-cleaning technologies. Thanks to functional coatings and pioneering research, self-cleaning properties—powered by the sun—are extending the life of textiles and decreasing maintenance costs.
Sunlight can damage many types of fabrics, yet it can also have a beneficial effect on textiles that are enhanced with self-cleaning technologies. Thanks to functional coatings and pioneering research, self-cleaning properties—powered by the sun—are extending the life of textiles and decreasing maintenance costs.
CHEMISTRY BASICS
Self-cleaning textiles are basically functionalized textiles either due to chemistry or innate biology. The hydrophilic self-cleaning coatings are based on photocatalysis: when exposed to light, they are able to break down impurities.
Two kinds of self-cleaning textiles are available. The first core technology is considered anti-stick or hydrophobic, and this type is often called antimicrobial, according to Reinhard Liu, operations manager at TitanPE Technologies Inc., a leading nano photocatalyst maker and the first hydro-synthetic photocatalyst manufacturer in Shanghai, China.
AT&T Stadium, home of the Dallas Cowboys in Arlington, Texas, features 19,000m2 of SHEERFILL® I with EverClean® Topcoat on the retractable portion of the roof. Photo: Saint-Gobain.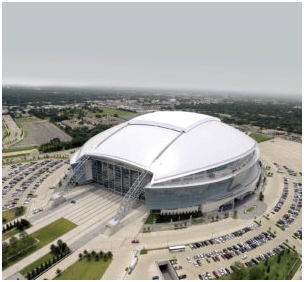 Liu explains that with this first type of technology, the goal is to develop textiles that do not allow pollutants to stick to the textile. "There are several chemicals that can do this in the world," Liu says. "This technology is a dirt repellent, not 'self-cleaning.'" The goal is to prevent dirt and microbial elements from sticking to and "dirtying" textiles and interior or exterior applications.
The second type of technology is hydrophilic and photocatalytic. "In this type of technology, we want the textile to have hydrophilic features, so we can clean it by water, even without using a cleaning agent," Liu says. "The photocatalytic component can help decompose organics on the textile under the sun. This technology is actually self-cleaning, because we use rain and water to clean it automatically."
TitanPE has some commercial anti-stick products, but the company's major R&D is focused on hydrophilic and photocatalytic technology. Called TiPE™ self-cleaning nano coat, the special nano photocatalyst technology can be applied to the exterior of buildings to prevent mold, moss or dirt buildup. The coating can also improve the air around the building by purifying nitrogen oxide (NOx) generated by passing automobiles.
THE HYDROPHILICITY FEATURE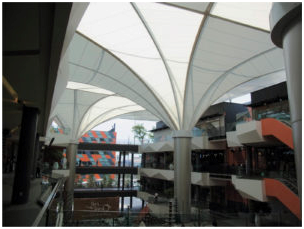 Detergents and cleaning agents reduce the surface tension of water and lower the contact angle on fabric surfaces. TitanPE Technology calls it the hydrophilicity feature. TiPE nano coat's hydrophilicity will simulate this feature, so that a single water wash on the surface can achieve the same effect as a traditional cleaning with detergent.
The Lampton Shopping Center in Thailand features a PVC-coated fabric display coated with photocatalyst. Photo: Taiyo Kogyo Corp.
According to Liu, when the surface of nano-level photocatalytic film is exposed to light, the contact angle of the photocatalyst surface with water is reduced gradually. As explained in the TiPE nano coat self-cleaning application manual, after enough exposure to light, the surface reaches super-hydrophilicity. In other words, it does not repel water at all, so water cannot exist in the shape of a drop, but spreads flatly on the substrate. The hydrophilic nature of titanium dioxide (TiO2), coupled with gravity, will enable the dust particles to be swept away following the water stream (rain), creating the key feature of self-cleaning and easy-cleaning.
Our self-cleaning technology has been used on buildings for several years, with many clients using water/oil repellent technology first and then turning to us," Liu says. "But for textiles, it is just a beginning. Water- and oil-repellent technology is still much higher in sales, but we are pushing it to change."
Evidence shows the older hydrophobic treatment chemicals to be harmful to the environment, Liu notes. "We want to use a safe and long-lived technology to develop a new commercial market. It needs to be safe, healthy, environmentally friendly and also inexpensive," he says.
The first PVC-coated fabric with TiO2 was developed by Taiyo Kogyo Corp., Osaka, Japan, in 1997. Taiyo Kogyo has been selling the products commercially since 1998. Other companies also sell hydrophobic and anti-stick products, including 3M, St. Paul, Minn., and Daikin Industries Ltd., Osaka, Japan.
Liu says, "For the hydrophilic/ photocatalytic market, it is just in the beginning." TitanPE is a leading researcher in the area, but Liu adds that much research is happening in the U.S., which includes activity at universities and some pioneering companies.
LET THERE BE UV
"One is the oxidative decomposition reaction of organic contaminants triggered by the redox reaction of TiO2, and the other is hydrophilic property induced by UV light, whereby UV irradiation on TiO2 produces hydrophilic groups (OH groups) on the surface of TiO2 and makes the surface hydrophilic and thus gives the surface high wettability," Toyoda says.
The hydrophilic effect allows natural rain to wash off dirt from the surface. The TiO2 top coating solution was prepared by anatase titanium dioxide crystals and is bound with an inorganic binder that largely increases the adhesion strength to the substrate.
A PVC-coated fabric with a double-layered structure.According to Dr. Hiroshi Toyoda of the Technical Research Center at Taiyo Kogyo Corp., TiO2 photocatalytic coating technology for the PVC-coated fabric shows excellent self-cleaning effects on its surface under irradiation by UV light.
According to Toyoda, because the fabric with TiO2 stays cleaner than traditional architectural fabrics, cleaning fees can be reduced and the translucency stays high, minimizing the need for further artificial lighting, which in the end will reduce energy costs for the owner.
FINDING THE RIGHT MIX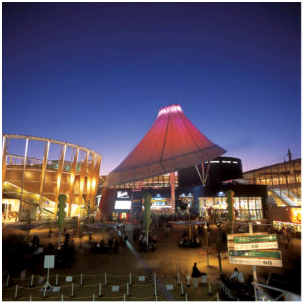 At the 2005 World Exposition in Aichi, Japan, the "Mountain of Dreams" display
featured a PVC-coated fabric with TiO2 coating. Photo: Taiyo Kogyo Corp. An example of this coating technology is Saint-Gobain's Sheerfill® architectural membranes, which stay clean, white and bright even in very challenging environments. The fact that the fluoropolymer coating is easily rinsed clean by rain or plain water ensures a long service life with little regular maintenance, according to Michael Lussier, architectural sales and market manager at Saint-Gobain, Malvern, Pa.
"When our EverClean® Photocatalytic Topcoat was introduced to the market, our 'easily cleaned' coating became truly 'self-cleaning,'" Lussier says. "By adding photocatalytic titanium dioxide to the topcoat, and simply exposing the material to sunlight—which is easy to do on a roof—a layer of activated oxygen forms at the surface, helping to reduce NOx pollution and breaking down organic contaminants. Since the TiO2 is a catalyst, it is not consumed in any of the reactions and remains available to provide the self-cleaning properties for the life of the membrane. Saint-Gobain has invested significant time, effort and money into applying the technology to our specific products."
Lussier says that eliminating surface dirt on architectural structures is paramount, so when UV light hits the EverClean photocatalytic TiO2-based surface, hydroxy radicals (.OH) and superoxide radicals (O2-) oxidize(decompose) allorganicsubstances. Rain or water washes them away, keeping Saint-Gobain's Sheerfill surfaces white. Maintenance cleaning is eliminated, as is the use of environmentally deleterious cleaning agents.
"The TiO2 layer is required for the PVC-coated fabric, which is used for the self-cleaning application," Toyoda says. "It should be provided with a high photo-redox reaction ability to eliminate an oily plasticizer which migrates to the outermost surface."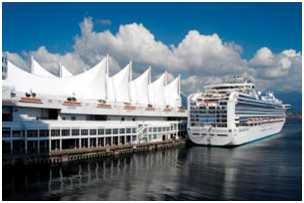 Canada Harbor Place in Vancouver, British Columbia, contains 10,000m2 of SHEERFILL® II with EverClean®. Photo: Saint-Gobain.
Saint-Gobain is one of the market leaders with respect to self-cleaning permanent architectural membranes. The company partnered with TOTO Ltd., Kitakyushu, Fukuoka Prefecture, Japan, in the development of the EverClean Photocatalytic Topcoat product; TOTO is a technical leader in the use of photocatalysts across a wide variety of products and materials.
As Lussier explains, the process of coating polytetrafluoroethylene (PTFE) onto fiberglass requires very high processing temperatures. "Finding the right TiO2 that is compatible with our materials and our processing was very challenging," Lussier says. "It is not enough to simply add 'TiO2' to the coating—only the right TiO2, added in the optimum ratio, applied in the optimum manner, will provide the desired performance."
It's important to note that PTFE is unaffected by UV and virtually all chemicals and pollutants; the PTFE coating provides protection of the underlying fiberglass fabric, which is strong and unaffected by UV.
Adding catalytic, nano metal oxide particles to obtain self-detoxifying filter substrates is an area of focus at the Nonwovens and Advanced Materials Laboratory at Texas Tech University (TTU), Lubbock, Texas, according to Seshadri Ramkumar, Ph.D. Ramkumar is a professor at TTU's Institute of Environment and Human Health.
"While conducting this study, we observed self-assembly phenomenon in PU nano fibers, which mimicked honeycomb structures," Ramkumar says. "These provide more surface area and hence can be better filter substrates."
HANDLING AND CARE
Compared to other materials that do not provide the same performance with regard to lifetime, fire safety and low maintenance needs, Sheerfill does require a different approach with fabrication and installation. Fabricators, architects, designers and owners need to understand the unique properties of the material and how to utilize it to its full potential.
The purpose of self-releasing properties of interior and exterior textiles is to minimize or completely eliminate the need for ongoing care and maintenance of these textiles and coatings. With the EverClean topcoat, cleaning will seldom be needed. When cleaning is necessary, Saint-Gobain provides simple guidelines that include using water, mild pure soap and a soft brush.
ON THE HORIZON
As Liu explains, if we look at the "real" self-cleaning aspect of textiles, from hydrophilic and photocatalytic perspectives, the current commercialization of these textiles is still on a small scale.
"We are doing some commercializing of projects for this, but it is still on a very small scale—compared to first direction hydrophobic products in the moment, but it has a big potential. After all, it will provide extra bio-pollutant control ability, which traditional self-cleaning— hydrophobic—can't. It will allow real self-cleaning applications in hospitals, for example," Liu says.
Continueddevelopmentsareexpanding. For instance, Saint-Gobain is developing new products to address the evolving needs of the market. These needs include the use of colors, materials with higher light transmission, mesh fabrics for shading and facades and the desire to be "green," all while maintaining or improving the aesthetics of the final structure and providing comfort for the occupants and users.
"There is good scope for the field," Ramkumar says. "However, one has to look into cost benefit analysis. If we are targeting consumer textiles, cost also plays an important role. End users get a value-added product. Fabricators develop new lines of value added and high performance products. But, that said, the industry has to be always cognizant of the cost factor."
Liu predicts strong interest in further commercializing the application for building textiles, air purification and water treatment to remove harmful chemicals.
"There will be increased growth in self-cleaning textiles for use in hospitals to help control bacteria, super bugs, mutant viruses without using heavy metal," Liu says. "There will also be further development in textiles for strong active smell control ability—to remove smoke, human body smell, sweat smell."
Future focus will be on biomimicry, wearables and sustainable products, according to Ramkumar. He notes that the advanced fabrics industry needs "to look outside the box and borrow ideas happening in non-textile and allied fields." For example, developing porous textiles using the supercritical fluid concept.
"While current products focus on the photocatalysis triggered by UV light, we are developing novel photocatalysis that can be triggered by visible and infrared light," Toyoda says. "This may provide further benefits to the current technology in order to find new applications."
The terms used within the self-cleaning textile industry are numerous. Some of the key terms to know include:
Bioactive textile:
Contains an active substance with a permanently antimicrobial effect.

Photocatalysis: 
The acceleration of a photoreaction in the presence of a catalyst. In catalyzed photolysis, light is absorbed by an adsorbed substrate.

Nanotextiles:
Textiles engineered with small particles that give ordinary materials advantageous properties.

ETFE coated:
Ethylene tetrafluoroethylene (ETFE) is a fluorocarbon-based polymer designed to have high corrosion resistance and strength over a wide temperature range.

Lotus effect:
Self-cleaning properties that are a result of ultra-hydrophobicity; dirt particles are picked up by water droplets due to the micro- and nanoscopic architecture on the surface, which minimizes the droplet's adhesion to that surface.