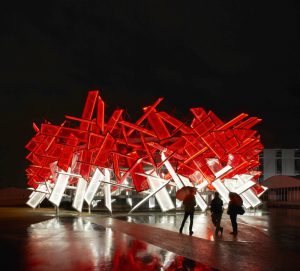 Architects: Pernilla & Asif
Design Team: Asif Khan, Pernilla Ohrstedt
Photographs: Hufton, Crow
The Coca-Cola Beatbox, designed by Asif Khan and Pernilla Ohrstedt is an experimental fusion? of architecture, sport, music and technology that creates a stunning sensory experience. The visionary structure acts as a musical instrument, allowing visitors to remix Mark Ronson and Katy B's 'Move to the Beat' Coca-Cola anthem 'Anywhere in the World' – as they pass through the building.
The Coca-Cola Beatbox forms part of Coca-Cola's Future Flames campaign which aims to shine a spotlight on Britain's brightest stars and inspire other young people to pursue their passions.
Coca-Cola has spent two years working with partners including The Architecture Foundation, the Royal College of Art and experimental theatre company London Quest. Together, these organisations have helped Coca-Cola bring together the best in emerging talent across design, performance and technology as part of its commitment to using its sponsorship to shine a light on inspirational young people – its Future Flames. The result is a pavilion that is created by, embodies and celebrates the passions of thousands of Coca-Cola Future Flames who make a positive contribution to their local communities every day.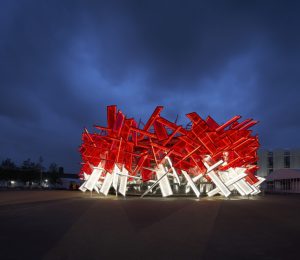 Emerging London-based architecture collaborators Asif Khan, 32, and Pernilla Ohrstedt, 31, were given creative control by Coca-Cola following a formal commissioning process administered by The Architecture Foundation. The dynamic pair have designed a pavilion that aims to connect young people to the Games by bringing together their passions for music and sport. Inspired by Coca-Cola's global platform for London 2012 – Move to the Beat – the pavilion has been designed to function just like a musical instrument.
Its giant crystalline facade structure is made up of over 200 red and white inflated ETFE cushions, each gravity-defying panel connected like a house of cards. Integrated within these panels is proprietary audio, illumination and interactive sensor technology, enabling the architecture to be embedded with rhythmical sport sounds from GRAMMY award winning Mark Ronson and Mercury Prize nominee Katy B's Coca-Cola anthem 'Anywhere in the world' for London 2012. His recordings from Olympic athletes' heartbeats, shoes squeaking, arrows hitting a target, amongst many others, are triggered, played and musically remixed by an estimated 200,000 visitors' gestures and proximity as they ascend the external spiral ramp on a 200m journey to the pavilion's rooftop where they will enjoy spectacular views of the Olympic Park. The ramp then plunges down into the heart of the pavilion which will feature an interactive light installation created by Jason Bruges Studio.
Jason Bruge Studio's Aerial Dynamics installation is a living, breathing light show that has been designed to emulate the effervescent energy released when a bottle of Coca-Cola is served and shared. 180 bespoke mechatronic 'bubbles' glow rhythmically in time with Mark Ronson's track. Controlled with individual code, each bubble has eight polypropylene blades that fold intricately in on themselves. Special sensors embedded in the three 'cheers in celebration' kiosks at the base of the Beatbox detect when Coca-Cola bottles are clinked together, triggering the blades and bubbles to glow with red and white LED lighting. These light patterns become increasingly intricate as the number of participants grow.
Now that is a music box we'd like to have 😀